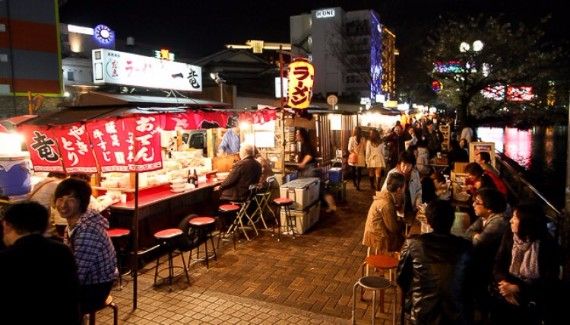 You could be identifying Fukuoka with ramen, which is regarded as a massive contribution to mankind. For many, Fukuoka is the ramen capital of the world and the birthplace of the most revered tonkotsu ramen, famous for its mouthwatering pork bone-based broth. However, when you travel to Fukuoka, there is more than soulful soup served in its bowls.
Whether you are visiting for the first, second, or third time, there are things you can do when you are in Fukuoka. Moreover, there are places you may also visit to create a memorable experience on your trip to Fukuoka.
Food Trip in Fukuoka
While the rest of Japan is not big on street food, Fukuoka embraces it big time, as evident in the popularity of yatai in the locality. A yatai is a mobile food stand stationed on the sidewalk. It usually opens in the early evening and closes in the early morning.
More than half of Japan's yatai can be found in Fukuoka. Most of them sell ramen, but other stalls offer various dishes like hot pot, yakitori, and seafood. You may find a few other yatai serving dishes like French delicacies like escargot with wine.
Places to visit in Fukuoka
Nanzoin Temple 
The Nanzoin temple is located in Sasaguri, fifteen kilometers from the city center. It is one of the most visited Buddhist shrines in Fukuoka prefecture and Kyushu Island.
Most tourists like seeing the giant reclining Buddha. The Buddha stretches forty-one meters and is considered the world's biggest bronze reclining Buddha. If made to stand on its feet, the Buddha would be taller than the statue of liberty, excluding the stand.
Itoshima
Itoshima is a scenic resort town located on the northwestern edge of Fukuoka area. Itoshima is not popular among many international tourists. Far from its popularity, it is best known for Sakurai Futamigaura. These are a couple or wedded rocks. They are called wedded rocks because they feature two islets bound by a garland.
Many visitors who set foot on the beach face it wishing for a strong and happy marriage. Some natural attractions include Onego-Hama beach, Shirato Waterfall, and Keya Cave. You may use air or rail transport to get to the primary attractions in Fukuoka.
 Dazaifu
Although Fukuoka city is the prefectural capital and the largest city on the island, a lot has changed. The center of government and seat of power in Kyushu was Dazaifu for over five hundred years. This history can be traced back to the seventh century.
Today, Dazaifu is a small city best known for its shrines. The shrines include Dazaifu Tenmangu Shrine, the country's most important of all Tenmangu sites. The extensive Shinto shrine stretches over a thousand hectares and is believed to be the burial site of Michizane. Michizane is also known as Tenjin.
The way to the entrance of the shrine complex is lined with several stalls and shops. The whole property covers the tori gate entrance, the main shrine, the auxiliary, two ponds, two bridges, an ox statute, museums, and other structures. The shrine grounds are also home to about 6000 plum trees.
Canal City Hakata
Canal City Hakata is a shopping and entertainment complex with two hundred and fifty shops and restaurants, two hotels, and a canal with a dancing fountain that illuminates at night. The nearest station is Hakata Station. You can take the loop bus or walk from the station, which will take approximately fifteen minutes.
Fukuoka is rich in places to visit when you travel there for vacation. Other areas that might interest you includes Nokonoshima Island Flower Park, Ohori Park, and many others.